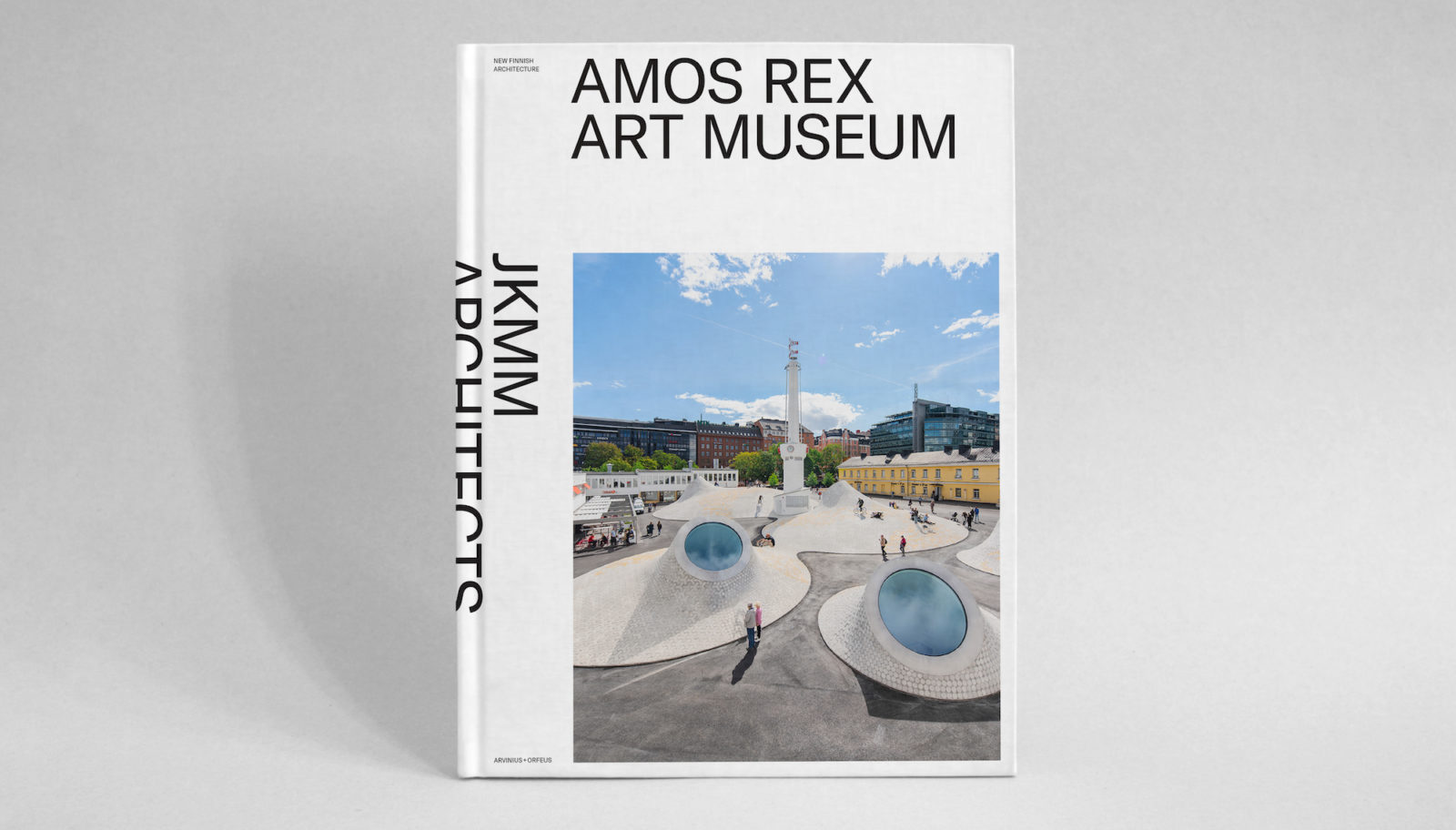 Amos Rex -kirja julkaistaan
Suomalaisen nykyarkkitehtuurin merkkirakennuksia esittelevän kirjasarjan ensimmäisessä teoksessa keskitytään taidemuseoon, joka luo kaikille avointa kaupunkitilaa.
Ensimmäinen Amos Rex -taidemuseota käsittelevä kirja julkaistaan 25.5.2021. Vuoden 2018 valmistumisestaan lähtien suurta suosiota nauttinut taidemuseo on kerännyt myös laajasti kansainvälistä huomiota sekä näyttelyillään että arkkitehtuurillaan. Kirjan julkaisee arvostettu pohjoismainen, arkkitehtuuriin ja designiin erikoistunut boutique-kustantaja Arvinius + Orfeus. Amos Rex -kirja on ensimmäinen osa kymmenosaista sarjaa, jossa keskitytään pohjoismaisen nykyarkkitehtuurin merkittäviin rakennuksiin. Amos Rex -kirja ottaa osaa laajempaan keskusteluun museoiden merkityksestä osana kaupunkiympäristöä ja -kulttuuria.
Dezeen-kirjajulkistus
Vieraana kuuluisien kansainvälisten museoalan vaikuttajien, Priya Khanchandanin ja Lars Nittven, lisäksi suomalaistaiteilija Karoliina Hellberg.
Amos Rex- kirja julkaistaan Dezeen.comin live stream -tilaisuudessa tiistaina 25.5.2021. Dezeen.com on yksi maailman suurimmista ja suosituimmista arkkitehtuurin ja muotoilun verkkojulkaisuista. Paneelissa keskustellaan museoiden ja museorakennusten vaikutuksesta ympäröivään kaupunkiin sekä niiden roolista avoimemman kaupungin, kaupunkikulttuurin ja julkisten tilojen kehittäjänä.
Livenä seurattavaa virtuaalista paneelikeskustelua moderoi Dezeen.comin varapäätoimittaja Cajsa Carlson. Keskustelijoina ovat Design Museum London -museon pääkuraattori Priya Khanchandani, arvostettu kansainvälinen museoalan kriitikko ja vaikuttaja Lars Nittve sekä suomalainen Karoliina Hellberg, joka on yksi Amos Rexin uuden Between Us -näyttelyn taiteilijoista.
Virtuaalinen kaikille avoin keskustelutilaisuus 25.5. klo 19–20
Tilaisuus on englanniksi.
Kirjan voi nyt tilata ennakkoon Amos Rex Shopista. Valikoituihin kirjakauppoihin se saapuu kesäkuun alussa. Tilaa kirja ennakkoon.
Lisää tilaisuudesta englanniksi:
Book launch and talk
On Tuesday 25 May, Dezeen are hosting a book launch to discuss some of the themes raised by AMOS REX ART MUSEUM – JKMM ARCHITECTS. What type of urban landmark should a museum be in the 21st century? How should museums connect with the residents of a city? Can they be a catalyst for a vibrant urban culture? What do ever-more traveled tourists expect to find in a museum? And who are our new museums really for?
These and other questions will be discussed by an expert panel chaired by Dezeen's Deputy Editor, Cajsa Carlson
The panelists are:
Lars Nittve Named by Le Nouvel Observateur one of "The Fifty who Change the World" and for many years ranked as one of the top 10 museum directors in the world, Lars Nittve was the founding Director of Tate Modern in London (1998–2001) and of M+ in Hong Kong (2010-2016). He was also the Director of the Louisiana Museum of Modern Art in Humlebæk, Denmark (1995–1998) and the Moderna Museet in Stockholm Sweden (2001–2010).
Priya Khanchandani British writer and curator Priya Khanchandani is the head of curatorial at the Design Museum in London. Through exhibitions and text, her work pushes the boundaries of design and uses the material environment as a lens to understand the world in which we live. The first female editor of design and architecture magazine Icon, Khanchandani was nominated as Fiona Macpherson New Editor of the Year. After an early career as a lawyer at a magic circle firm, she began her arts career at the Victoria and Albert Museum and then at the British Council. She holds an MA in the History of Design with Distinction from the Royal College of Art and has curated at international forums and published widely on design.
Karoliina Hellberg Hellberg is a renowned Finnish Artist exhibiting at the Amos Rex Museum as part of the "Between Us" group exhibition (12 May – 5 September 2021) where three artists explore the dialogues that exist between the aesthetics of fine art and the built environment. This is a recurring theme in her paintings and installations too that focusses on real and imaginary places and the role of memory and symbolism.
Dezeen book launch: AMOS REX ART MUSEUM – JKMM ARCHITECTS
Tuesday 25 May
At 19:00 Finnish time (18:00 Central European Time/ 17:00 BST)
About the book:
AMOS REX ART MUSEUM – JKMM
"A truly iconic museum without being at the expense of the art or its visitors!"
-Lars Nittve
Publisher – Arvinius + Orfeus
Language – English
Text – Tomas Lauri, Lars Nittve, Gunvor Kronman
Editor – Tomas Lauri
Graphic Design – WAAITT
No of Pages – 120
Format – 190 x 247 mm
Binding – Hardcover
Publication date – May 2021