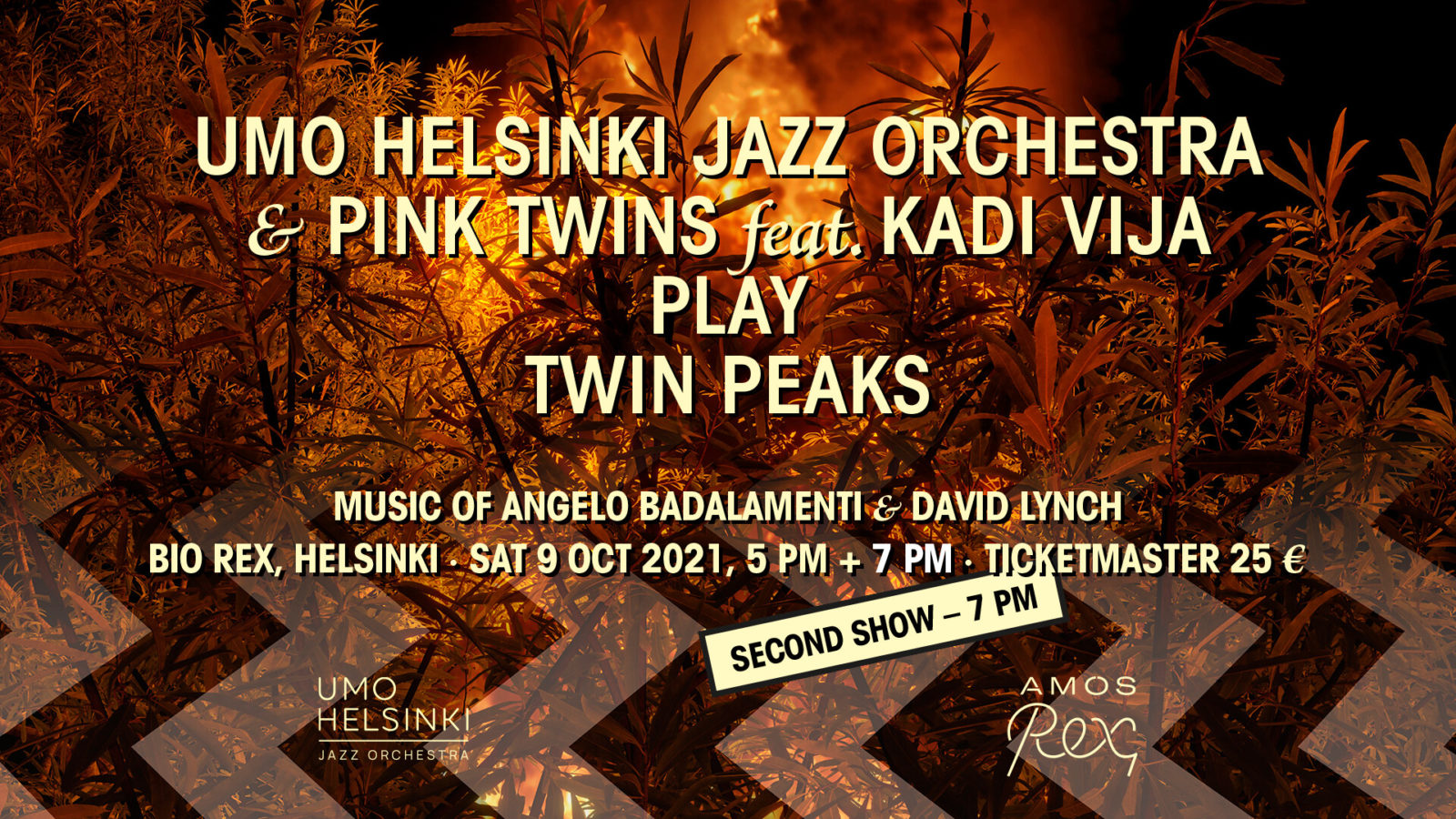 UMO Helsinki Jazz Orchestra & Pink Twins feat. Kadi Vija
play Twin Peaks Music of Angelo Badalamenti & David Lynch
Conductor Ed Partyka
Saturday 9 October 2021 at 17:00 & 19:00

// Bio Rex, Amos Rex
Mannerheimintie 22–24, Helsinki
Tickets 25 €
The artist duo Pink Twins, ie. Jusu and Vesa Vehviläinen, combines electronic music, visual and video art and digital techniques in their works. Their large, psychedelic video installations and dazzling live performances have conquered art galleries and music festivals all over the world. The duo's electronic music has ties to noise, dub and psychedelia – and now also to jazz, when the duo performs alongside the 18 men strong UMO Helsinki Jazz Orchestra and their impressive sounds. 
Angelo Badalamenti's and David Lynch's legendary themes from Twin Peaks, such as Laura Palmer's Theme and Falling, come to life in brand new arrangements for big band and electronics. Contrasting elements confront each other and elements collide as the electronic duo is expanded with an acoustic big band – or the other way round! The arrangements are made by Mikko Hassinen and Ed Partyka who also conducts the orchestra. Kadi Vija performs as guest vocalist. 
The video animations for this concert, inspired by the themes of Twin Peaks, are of course made by Pink Twins. The animations come to their own in the grand milieu of Bio Rex in Lasipalatsi. 
Production: UMO Helsinki Jazz Orchestra and Amos Rex  
Pink Twins is an artist duo from Helsinki. In their video installations they combine visual arts with music. The members of Pink Twins are the brothers Juha (born 1978) and Vesa (born 1974) Vehviläinen. The duo was nominated for the Ars Fennica Prize in 2015 and their work Infinity from 2017 is part of Kiasma's permanent collection of online art.
UMO Helsinki Jazz Orchestra is the only professional orchestra in Finland specialised in jazz and new rhythm-oriented music. The big band of 16 musicians plays about 100 concerts every year in Finland and abroad. The orchestra plays a diverse range of modern music that is on the pulse of the times. The programme consists from jazz to soul and classical music, mixing old and new in surprising way, from children to senior citizens. 
Kadi Vija (b. 1985) is a gifted young vocalist in the spheres of jazz and improvised music. Her unique approach to singing and expressing with her voice bases on instrumental jazz, unrestrained association and abstract art. She weaves stories by means of melodies, ideas and tones of voice. 
At its completion in 1936, Bio Rex was one of the largest and most modern cinemas in Helsinki. Over the years it became an important flagship cinema for Finnish as well as foreign premieres. The cinema was gently renovated with great care in 2018 and its foyers are now part of Amos Rex.  
Amos Rex is an art museum in which the past, the present and the future meet. Lasipalatsi, a pearl among functionalist buildings, and the gallery spaces under its slopy square offer 10.000 square metres of space for unique experiences under ground, over ground and on the silver screen of Bio Rex. The exhibition catalogue of Amos Rex consists of the most recent, often technically experimental contemporary art, modernist art of the 20th century and ancient cultures.