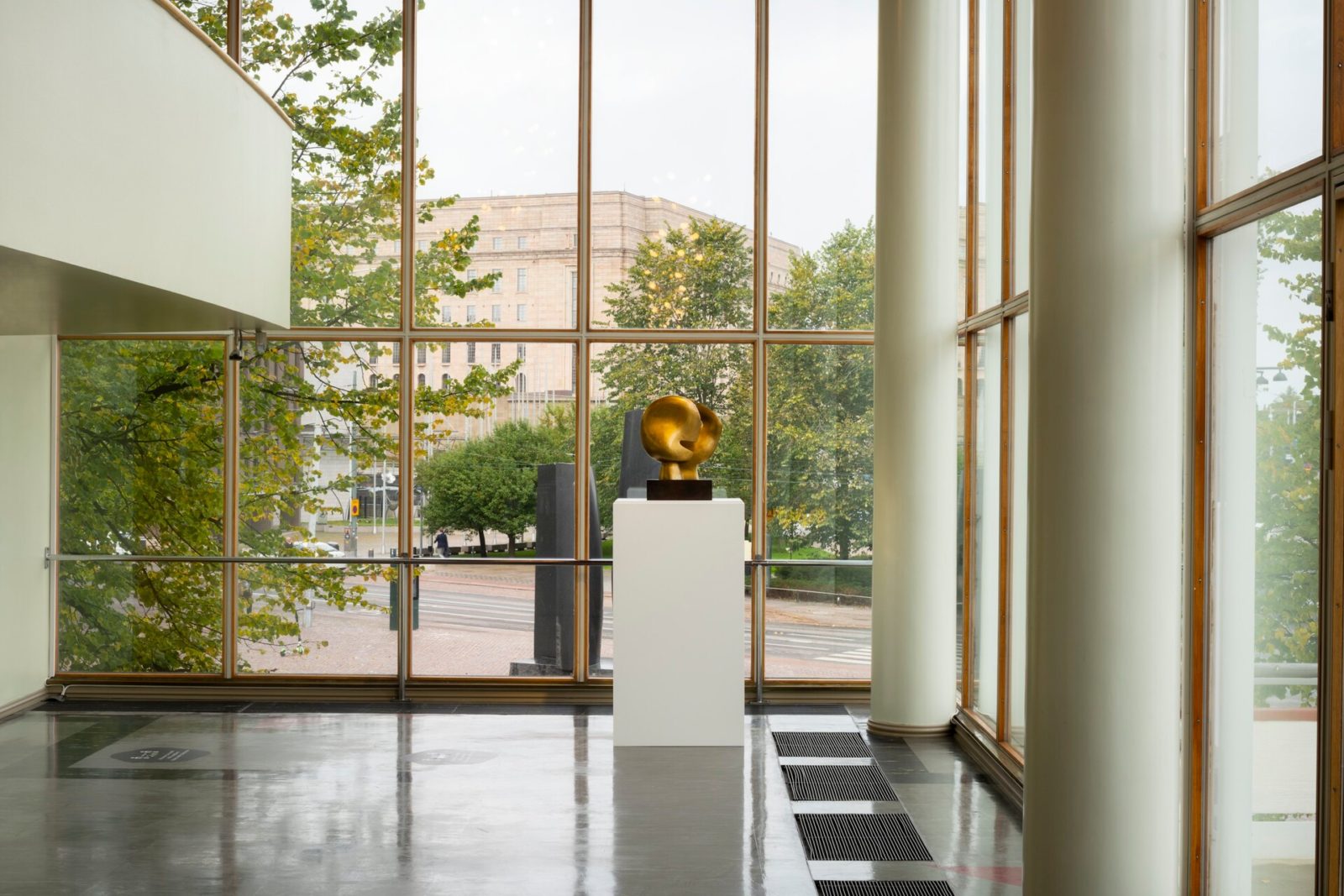 Henry Moore
Moon Head
1964, bronze
Föreningen Konstsamfundet collection
Bio Rex. Amos Rex
(In Memoriam Viljo Revell 1910–1964)
Bronze sculpture Moon Head by British sculptor Henry Moore (1898–1986) dates back to 1964, the artist's later period. It consists of two thin, sharp-edged discs placed in parallel yet overlapping positions. One of the discs has been shaped like an oval human head with a mouth curving like the letter U on its sides. One disc of the sculpture's early version, Maquette for Head and Hand (1962), is known to be based on a largely stylised hand with thumbs and index fingers held up. While Moore has defined the front side of the piece, it should be approached from all directions. Different angles provide the sculpture with crucial changes to its exterior and character. This is what makes it so lively and fascinating.
Ten bronze casts have been made from Moon Head, nine actual ones and one artist edition. This one from Konstsamfundet's collection bears the number 1/9. Plaster and porcelain versions of the sculpture have also been created. Moon Head was named after a patinated gold version of the piece. In the glimmer and shape of the sculpture, the artist saw a full moon. The piece indeed emanates a mysterious, perhaps ritual-like feel. Henry Moore admired the Cycladic Bronze Age and traditional African art, both of which are reflected in the shape and content of Moon Head.
British Henry Moore is one of the most central and influential 20th-century modern sculptors and graphic artists. His art is marked by largely abstracted and fragmentary human figures, which provide a central, active meaning for empty space and "holes". He has been influenced by classical art, surrealism and past "primitive" cultures outside Europe. Moore is also known for his large monumental sculptures located in public spaces around the world. One such location is the Toronto City Hall designed by Finnish architect Viljo Revell (1910–1964).
Henry Moore and Viljo Revell were, in fact, friends. In 1964, Revell visited Moore's studio in London, where he took a liking to Moon Head. He wanted to purchase it but passed soon after his visit. His family, however, decided to acquire the piece and situate it at Viljo's grave in Vaasa. Because Moore was uncertain about the effects of the Finnish climate on the sculpture, this plan was never realised. Instead, the piece was placed at the house of Viljo Revell's daughter, Kati Revell-Nielsen. The family wanted to secure a future for the sculpture and decided to donate it to Föreningen Konstsamfundet. The final location for the sculpture is Bio Rex's beautiful foyer, situated at the functionalist Lasipalatsi as part of Amos Rex. According to Kati Revell-Nielsen, Moon Head has finally made its way to a valuable home. Her father Viljo is one of the three architects who designed Lasipalatsi in 1935.
In Finland, Didrichsen Art Museum's collections include several sculptures by Henry Moore.