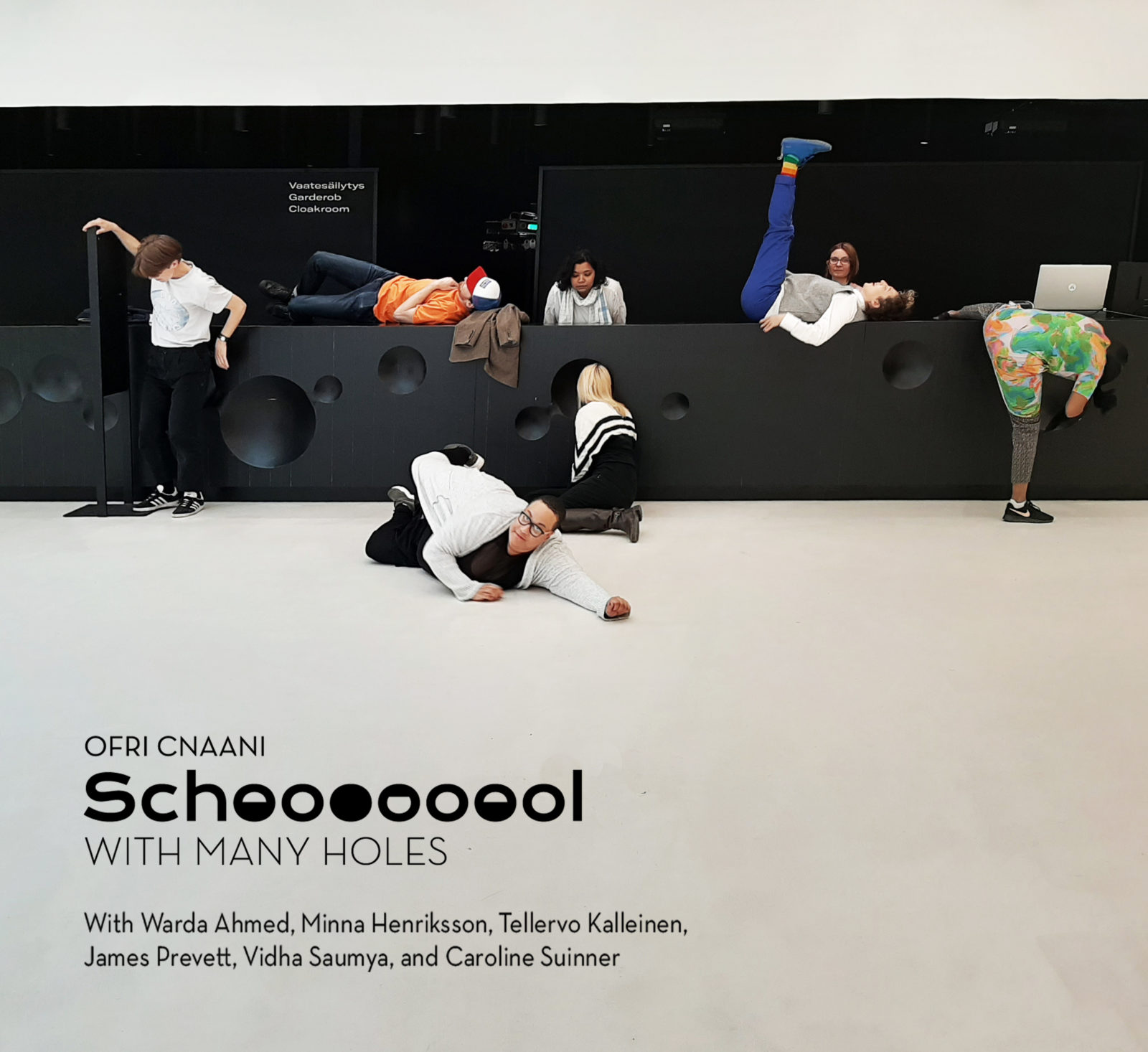 The Schoooooool With Many Holes is an art school that is open and free for all museum visitors who purchase an Amos Rex admission ticket. The art event consists of "schools" that you can take part in, each 40 minutes long. Anyone can attend. You don't need to have previous art studies!
Ofri Cnaani with
Warda Ahmed, Minna Henriksson, Tellervo Kalleinen, James Prevett, Vidha Saumya / Museum of Impossible Forms, and Caroline Suinner / Ruskeat Tytöt
"The schoooooool with many holes" is a short-lived art school that parasites in the museum. During the ten-day intervention, seven artists will diffuse the traditional dichotomy between a school (a training-institution), and a museum (traditionally dedicated to exhibiting and collecting).
Ofri Cnaani has invited seven artists to host Schools/Units, that you may take part in. The "schools" take place from Saturday to Monday October 26th to 28th and Friday to Sunday November 1st to 3rd. There is a Performative Conference on Monday October 28th in Bio Rex.
All events are included in the price of museum admission. The languages used are Finnish and English, more information below.
No pre-registration necessary.
The artists and collectives borrow art school terminology, from 'figure drawing' to 'tutorials', to develop new performative interventions that subvert its original convention and question its relevancy.
In this project the art school becomes both the research subject and the medium, and offers a close look at concepts such 'professionalisation', 'schooling', 'useful' knowledge, and the need for 'final presentation'.
The artists, thinkers and activists involved invite us to think: What does it mean to teach? How to be an artist in today's world? And what can possibly happen when set training methodologies and art school regulations are publicly observed?
Further reading from artist Ofri Cnaani:
Warda Ahmed: Decolonial talk
Let's make a comic book on the wall. From starting points created by the artist, the cartoon continues horizontally and vertically with new understandings and versions that will be taken into the common discussion. The formation of the cartoon is guided by the artist's introduction, the characters produced by the artist, and references to art history. The aim of the workshop is to arouse wondering, discussion, interest in cartoon technique and empathy arisen through understanding.
Held in Finnish.
Warda Ahmed
Cartoonist, teacher and illustrator, Warda Ahmed, is an artist working in the metropolitan area. As an anti-racist feminist, Warda participates in a public debate on the inequalities in society, particularly from the perspective of minorities. She is currently working on a comic and migration project funded by the Kone Foundation. Ahmed makes cartoons of her family's migration stories.
James Prevett: Transitional Modelling
Working in pairs, we create two-faced Janus heads guided by timed exercises. Participants will work with clay to model the face of their partner whilst at the same time their partner models their own face to the other side of the double-faced head.
Held in English.
James Prevett
James Prevett makes things to gather around – objects, events, text, video that are often combined together as sculpture. His work is rooted in an acute interest of what constitutes the physical and by extension the sculptural. He has exhibited widely in countries such as UK, Thailand, Singapore, Estonia, USA, Austria and Brazil, and was part of a team that represented Great Britain at the Venice Biennale of Architecture 2006. James lives and works in Helsinki where he is currently Sculpture Lecturer at Academy of Fine Arts of Uniarts Helsinki.
Minna Henriksson: Art in the Service of the Nation — Or why did Birger Carlstedt reject abstraction in early 1930s?
This art history lecture is a performative intervention that will take place in the exhibition rooms of the Birger Carlstedt exhibition. The topic of the lecture derives from the fact that in early 1930s Carlstedt was strongly discouraged from pursuing with abstract paintings. The main art critics in Finland, Onni Okkonen, Ludvig Wennervirta and Edvard Richter accused him of mimicking international art trends, and ignoring what Finland had to offer in terms of subject matter for artists. In the critics' opinion artists in Finland should draw themes from the Finnish nature and paint with the colour palette found there, instead of copying, in bright colours, influences from Russian constructivism and De Stijl in the Netherlands. Only in 1950 Carlstedt went back to the language of abstraction, and this time he was allowed to stay there.
This lecture-performance is about art caught in between demands for nationalism and strives for internationalism. It is an invitation to take a critical look at how the history of art is being taught, in relation to the history of a nation.
Held in Finnish.
Minna Henriksson
Minna Henriksson was born in 1976 in Oulu, Finland. She has studied art in Brighton, Helsinki and Malmö, and since then lived long periods in South East Europe. In 2009 she returned to Helsinki and was faced with urgency to respond to increased nationalism and racism. In 2017 she was awarded with the Anni and Heinrich Sussmann Award of artistic work committed to the ideal of democracy and antifascism.
Vidha Saumya: Academic Quarter Sandwich
At the 'Schoooooool With Many Holes', we will prepare sandwiches during the 'Academic Quarter' – the quarter-hour / 15 minute pause between the defined start time for a lecture or lesson and the actual starting time. Inside the Le Chat Doré café, we can think of the relation between our appetite for Art and the domestic action of preparing a sandwich. What does each ingredient going into our sandwich mean? And, how can we "sandwich" these ingredients to make our ideal sandwich? Together, we will share lots of 'food for thought' and locate ourselves inside the museum café, where we will prepare a sandwich and eat it too.
Held in English.
Vidha Saumya
Vidha Saumya is a drawer, poet, cook and bookmaker. She seeks visual interest in congregating bodies, popular cultures and notions of deformity. She is a founding member of the Museum of Impossible Forms, Helsinki and is currently working on the project, 'Monumentless Moments: Utopia of Figureless Plinths', supported by the Kone Foundation, Finland.
Tellervo Kalleinen: Art Critic Class
One of the basic elements of art teaching is art critic, during which art teachers and other students give feedback about art pieces of students. Also in Tellervo Kalleinen's art critic class the participants give feedback about each others works. The only odd thing is, that the pieces are invisible. That, however is not an obstacle for a passionated feedback discussion!
Held in Finnish.
Tellervo Kalleinen
Tellervo Kalleinen´s art bases on creative collaboration with participants and other artists. Together with Oliver Kochta-Kalleinen she founded Complaints Choir -concept, which has spread to more than 200 cities around the world as an open source concept. They have made several participatory cinema works, which have been exhibited in venues such as Mori Art Museum (Tokyo), P.S.1 (New York), Shedhalle (Zürich) and Ars Electronica Center (Linz). Currently they are working on Common Ground Park in Rauma, Finland. Kalleinen and Kochta-Kalleinen won 2012 the AVEK media art prize and in 2014 they received the prestigious Ars Fennica -award
http://tellervo.net/
Caroline Suinner: Connection workshop
In this workshop we investigate how to connect, hear and to be heard. With movement an observation we try to create space to communication on a human level, stripping down from the daily routines and roles we might hold. We often don't recognize it, but for some people entering education system, new institution or a project might feel like an impossible challenge or there might be a possibility that one feels unseen thru all school years. We need to bring interaction as one of our subjects in the school system.
Held in Finnish.
Caroline Suinner
Caroline Suinner calls herself a highly uneducated, Helsinki-based artist who doesn't believe that one learns to swim in the deep end.
Caroline Suinner is the art Director and Co-Founder of Ruskeat Tytöt Media, Other half of Pehmee collective. Free artist and activist.
Ofri Cnaani and many friends: "I will not make any more boring art"
Everyone who ever studied art knows them: the art assignment that is seemingly simple but which challenges participants, students and pupils to the max. Revisiting the common teaching method of the art assignment to the point of absurdity Ofri Cnaani and many friends invite you to reenact John Baldessari's 1970's Class Assignment. This long form assignment will be enacted and re-enacted over the course of ten day in an endless loop. Each visitor is invited to join and leave as they wish, following and participating in the given prompt or acted out in the moment. In and between assignment we will ask if art can be taught, by who?, and how? The performance will exhaust what have now become canonical art assignments and stand-alone texts by a master, maker and teacher that never fail to blur the boundaries between object and conversation. Bring your mobile phone, we will use your phone camera!
Held in English.
Ofri Cnaani
Ofri Cnaani is a transdisciplinary artist and educator. Her exhibitions and performances include Tate Modern, England; Metropolitan Museum of Art, New York; Inhotim Institute, Brazil; Israel Museum; Kiasma, Helsinki; MoMA PS1, New York; BMW Guggenheim Lab, New York; The Fisher Museum of Art, Los Anegkes; Twister, Network of Lombardy Contemporary Art Museums, Italy; Kunsthalle Galapagos, New York; Herzlyia Museum of Art, Israel; Moscow Biennial; The Kitchen, New York; Bronx Museum of the Arts, New York; Kunsthalle Wien, Vienna; Arnolfini, Bristol; Tel Aviv Museum, Israel; Prague Triennial, Czech Republic. Cnaani is currently pursuing a PhD in the Curatorial/Knowledge program, Visual Cultures department, Goldsmiths, University of London.
Ofri Cnaani: Drawing of Drawing Sessions
Drawing of Drawing Sessions is a participatory performance rooted in the conventional method of sketching sessions in historical museums. Our unit will begin with one person sitting in front of Birger Carlstedt's piece and drawing it; A short distance behind, a second person will draw the first person drawing the object; forming a line of drawers of drawers, turning the museum mise-en-scene into a pedagogical mise-en-abyme.
The forty minutes long performance will include several canonical drawing assignments, always with a little twist. After each assignment, the first in line will move to the end, turning the performance itself into a drawn human line that is constantly moving through its surroundings and shifting its focal point and challenges the conversation between the concepts of skill, art training, subjectivities, and the act of seeing. One is welcome to join or leave as they wish.
Held in English.
Ofri Cnaani: How To Use The Internet
When the Internet was a very new "thing" art students and their teachers were grappling with the question, is computer art (a.k.a net art) a new genre? And, if yes, how do we study the internet or make art about it? Fast-forward 25 years, as most content and communication is done via apps, 'how to use the internet?' is very much a question. Are we Unlearning how to use the internet? In Ofri Cnaani's 'art and internet' class, participants will "log-off" in order to figure out together what and where is the internet? and, how it can be used to make 'art'?
Held in English.