Welcome to Amos Rex! This page is for children and those visiting the museum with a child. Read it, perhaps together, before your visit!
Meet Ou. Ou likes children, for they often understand it better than grown-ups. You see, it is sometimes difficult for Ou to control its feelings, not to mention energy.
Arrival
The museum's main entrance is in the Lasipalatsi (glass palace), on the Mannerheimintie side. An accessible entrance is located on Lasipalatsi Square's side of the building.
Everyone under 18 years of age gets free admission; you will get an admission sticker at the ticket counter. Ticket counters are at the museum's main entrance and in the museum gift shop, which is closer to the accessible door and elevators.
| | |
| --- | --- |
| | Space for keeping some baby carriages can be found at the end of the storage lockers in the cloakroom. Baby carriages can, however, be taken into the exhibitions. Strollers can also be borrowed, if needed, at the cloakroom. |
| | A childcare station is available next to the cloakroom. |
| | Breast-feeding is allowed anywhere in the museum. |
| | Ear protectors for children can also be borrowed at the cloakroom. |
How to act in the museum, and why
A museum's main task is to care for the artworks so that they can be preserved intact forever. Museums also have rules, which must be obeyed so that everyone's visit can be as pleasant as possible.
Important things to remember throughout your visit:
The artworks must not be touched, not even by a little tap of the finger, unless it is clearly stated otherwise. This is because they could be damaged, dirtied or corroded. Did you know that the natural grease on our fingertips can, for instance, leave a mark on a hard bronze sculpture that can never be cleaned off? Even if nothing at first can be perceived with the naked eye.
A good distance must be kept between yourself and the artworks, even if you would like to get a close look. Just think, even someone stumbling or sneezing could harm an artwork. It's good to keep a distance to avoid any accidents.
Visitors must walk through the museum calmly. You can be excited, but must not run. That's because if you ran, you could trip and fall, and thereby damage irreplaceable cultural treasures.
You certainly don't need to be silent in the museum. Discuss the art, debate, share your opinions! But we ask that you take the other visitors into consideration, so that everyone has a pleasant museum visit.
Emotions are allowed in the museum. If you feel like laughing, laugh, and if you feel like crying, that's OK too.
And finally:
You must obey any instructions given by the museum staff. They are really nice people, and there's no need to be shy of them. You can ask the museum staff all kinds of things, they know the museum inside out. On hand are also special guides whose job is to discuss with you – about the art or something else entirely. You will recognize the museum staff by their lavender coloured jackets!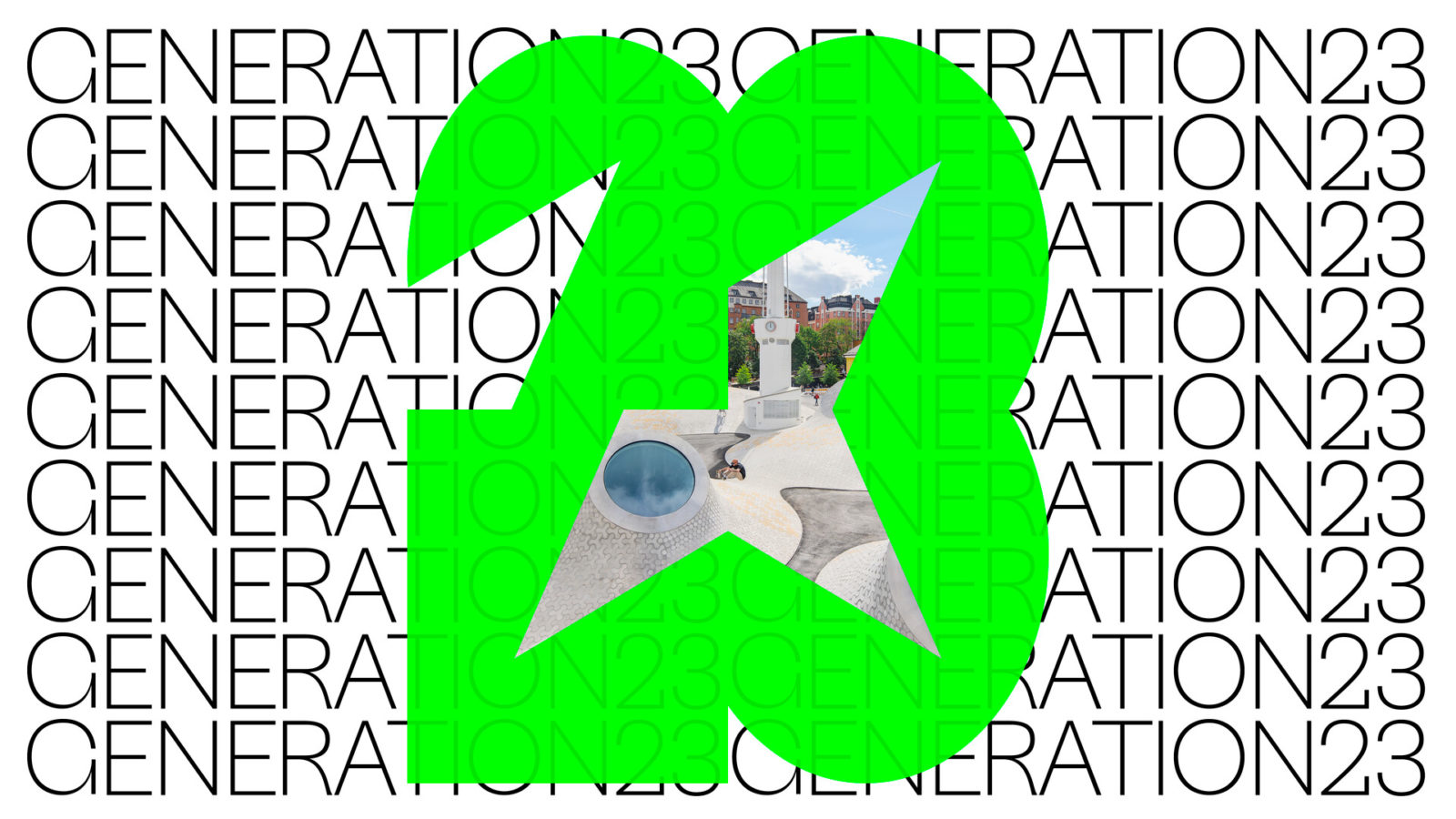 Generation 2023
29 March – 20 August 2023
Generation is a triennial (isn't that a funny word?). It means an exhibition that happens every three years. This is the third Generation exhibition. The exhibition began with an application process that was open to 15–23-year-olds, from which a total of 50 artists and working pairs were selected.
In their works, the artists in the exhibition are searching for new ways to look at today's biggest questions. Many of them want to make us think about how humans and nature co-exist, or about ideas related to gender identity and appearance. The young artists reflect on funny subjects, but also on dark ones, such as illness and sadness. Through art, both the artist and viewer can find ways to feel and process even the most unpleasant emotions, in a safe space, and gain comfort from them. Good and bad feelings are easier to deal with when you share them with someone!
The exhibition also includes performance art pieces that gently invite us out of our bubbles to experience art that happens in a moment.
Check the performance art programme: Performances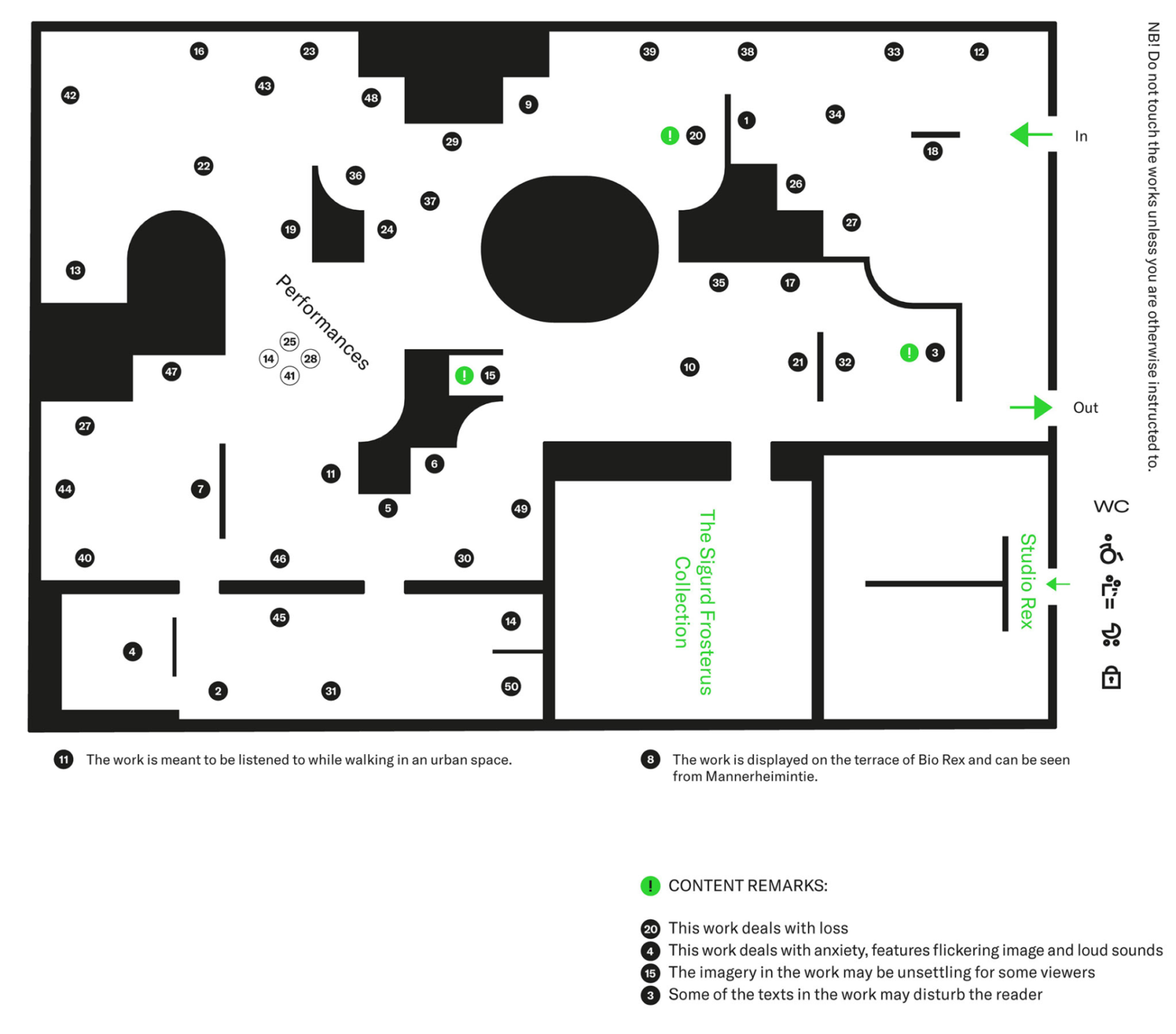 Check out the ex­hi­bi­tion guide
Here's the brochure for Generation 2023, your travel guide to the exhibition. It contains additional information about the exhibition and the artists, the artist's own descriptions of their works, as well as a map of the exhibition and content notes.
You can also find the printed exhibition brochure at the museum in English, Finnish and Swedish. It is free of charge.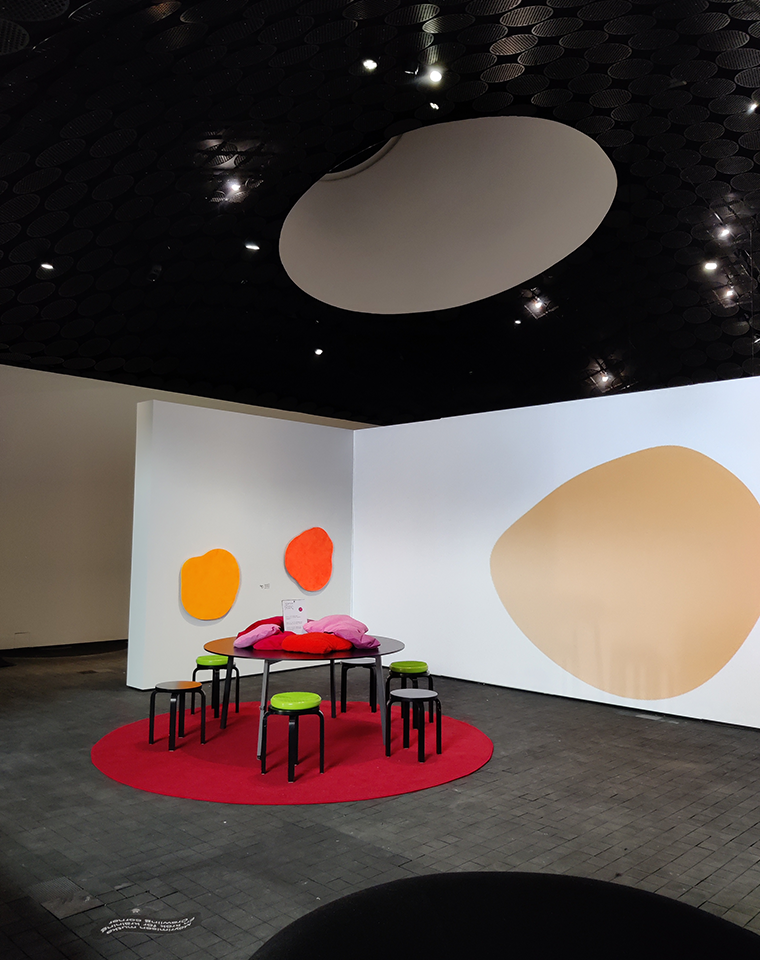 Ou has taken over Studio Rex!
An art exhibition can evoke big thoughts and feelings that require time to digest. Digesting can mean speaking your feelings and thoughts out loud (which often makes you feel better), but it doesn't always work – for example, Ou can't speak using words.
So sometimes you have to stop and check what your body is telling you. Are your shoulders tense? Is there a tingling sensation in your stomach? Do you feel like lying down and seeing the world from a new perspective? Maybe you feel like squeezing – or perhaps kneading something. Maybe you just need a moment to yourself.
Ou invites you to stop by Studio Rex to think about how you feel after the Generation 2023 exhibition visit. We all need a little help with that sometimes.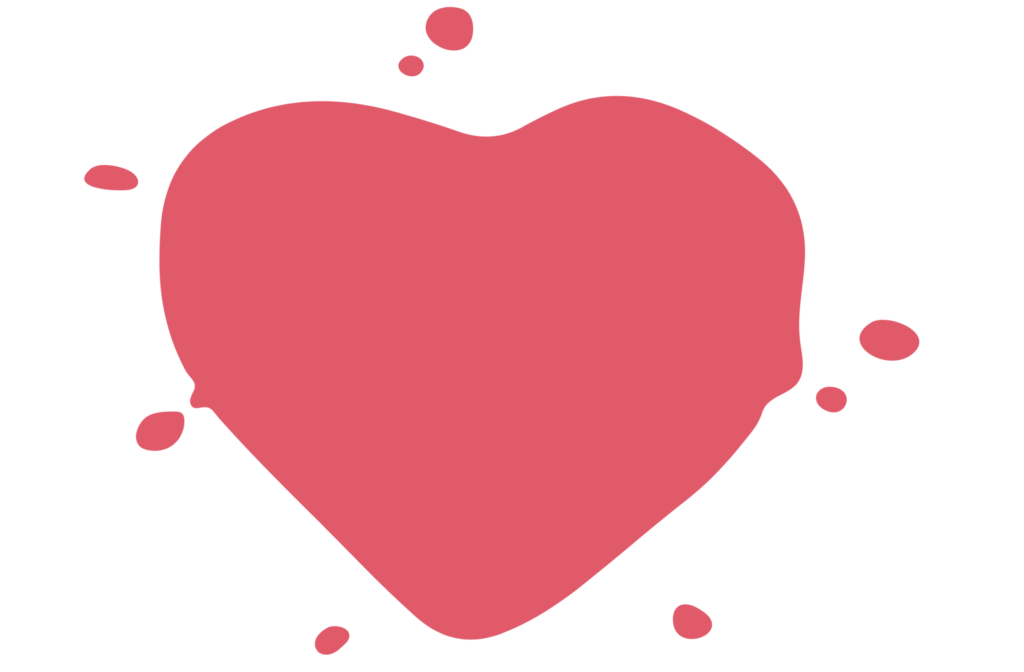 Follow Ou on kids' own guided art tours.