Welcome to Amos Rex! This page is for children and those visiting the museum with a child. Read it, perhaps together, before your visit!
Meet Ou. Ou likes children, for they often understand it better than grown-ups. You see, it is sometimes difficult for Ou to control its feelings, not to mention energy.
Arrival
The museum's main entrance is in the Lasipalatsi (glass palace), on the Mannerheimintie side. An accessible entrance is located on Lasipalatsi Square's side of the building.
Everyone under 18 years of age gets free admission; you will get an admission sticker at the ticket counter. Ticket counters are at the museum's main entrance and in the museum gift shop, which is closer to the accessible door and elevators.
| | |
| --- | --- |
| | Space for keeping some baby carriages can be found at the end of the storage lockers in the cloakroom. Baby carriages can, however, be taken into the exhibitions. Strollers can also be borrowed, if needed, at the cloakroom. |
| | A childcare station is available next to the cloakroom. |
| | Breast-feeding is allowed anywhere in the museum. |
| | Ear protectors for children can also be borrowed at the cloakroom. |
How to act in the museum, and why
A museum's main task is to care for the artworks so that they can be preserved intact forever. Museums also have rules, which must be obeyed so that everyone's visit can be as pleasant as possible.
Important things to remember throughout your visit:
The artworks must not be touched, not even by a little tap of the finger, unless it is clearly stated otherwise. This is because they could be damaged, dirtied or corroded. Did you know that the natural grease on our fingertips can, for instance, leave a mark on a hard bronze sculpture that can never be cleaned off? Even if nothing at first can be perceived with the naked eye.
A good distance must be kept between yourself and the artworks, even if you would like to get a close look. Just think, even someone stumbling or sneezing could harm an artwork. It's good to keep a distance to avoid any accidents.
Visitors must walk through the museum calmly. You can be excited, but must not run. That's because if you ran, you could trip and fall, and thereby damage irreplaceable cultural treasures.
You certainly don't need to be silent in the museum. Discuss the art, debate, share your opinions! But we ask that you take the other visitors into consideration, so that everyone has a pleasant museum visit.
Emotions are allowed in the museum. If you feel like laughing, laugh, and if you feel like crying, that's OK too.
And finally:
You must obey any instructions given by the museum staff. They are really nice people, and there's no need to be shy of them. You can ask the museum staff all kinds of things, they know the museum inside out. On hand are also special guides whose job is to discuss with you – about the art or something else entirely. You will recognize the museum staff by their lavender coloured jackets!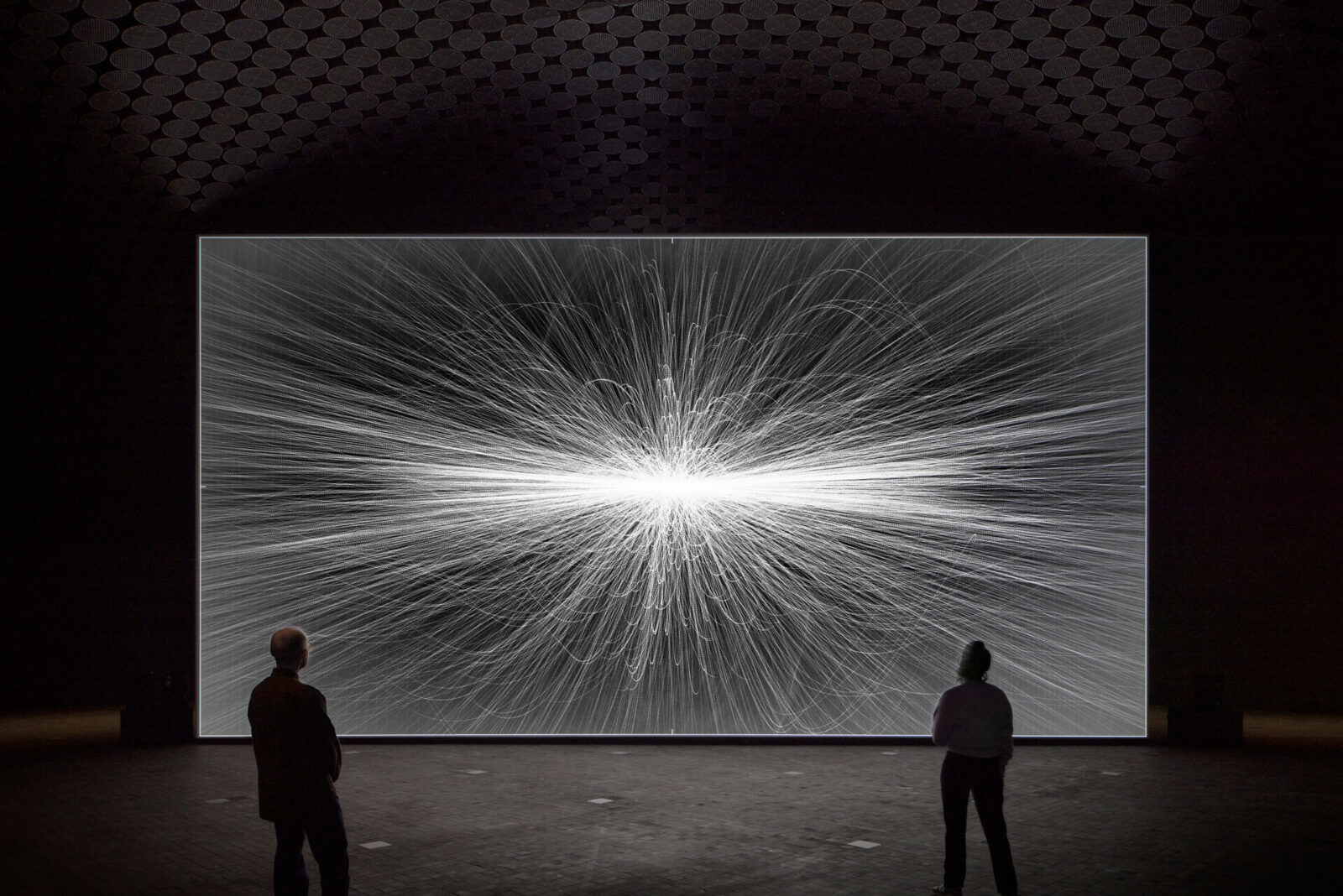 Ryoji Ikeda
27.9.2023 – 25.2.2024
Ryoji Ikeda is a solo exhibition by the Japanese artist and composer Ryoji Ikeda. All artworks in the exhibition are made by Ikeda, who has been creating and exhibiting art for more than twenty years. This is the first time that several of his artworks are on display in Finland under one single roof.
At Amos Rex, you have the chance to experience five different installations by Ryoji Ikeda. An installation is a type of artwork that takes over the exhibition space and places the viewer within it. This means that you might be able to enter and move around inside the artwork itself. So in this exhibition, your presence among the artworks is very important!
Ikeda builds installations by combining sound, moving image and light. He is interested in the whole wide universe – what is it really made of, and how does it work? Ikeda's artworks can be thought of as a kind of experiments that investigate the building blocks of the universe, from microscopic particles to infinite galaxies. The exhibition takes you on a journey across a sparkling, singing universe that keeps changing with every split second.
Please note!
It is dark in the exhibition and the sounds are loud. The artworks feature flashing lights. The first artwork of the exhibition includes strobe light.
You are free to borrow hearing protectors from us, just ask the staff in the lower lobby!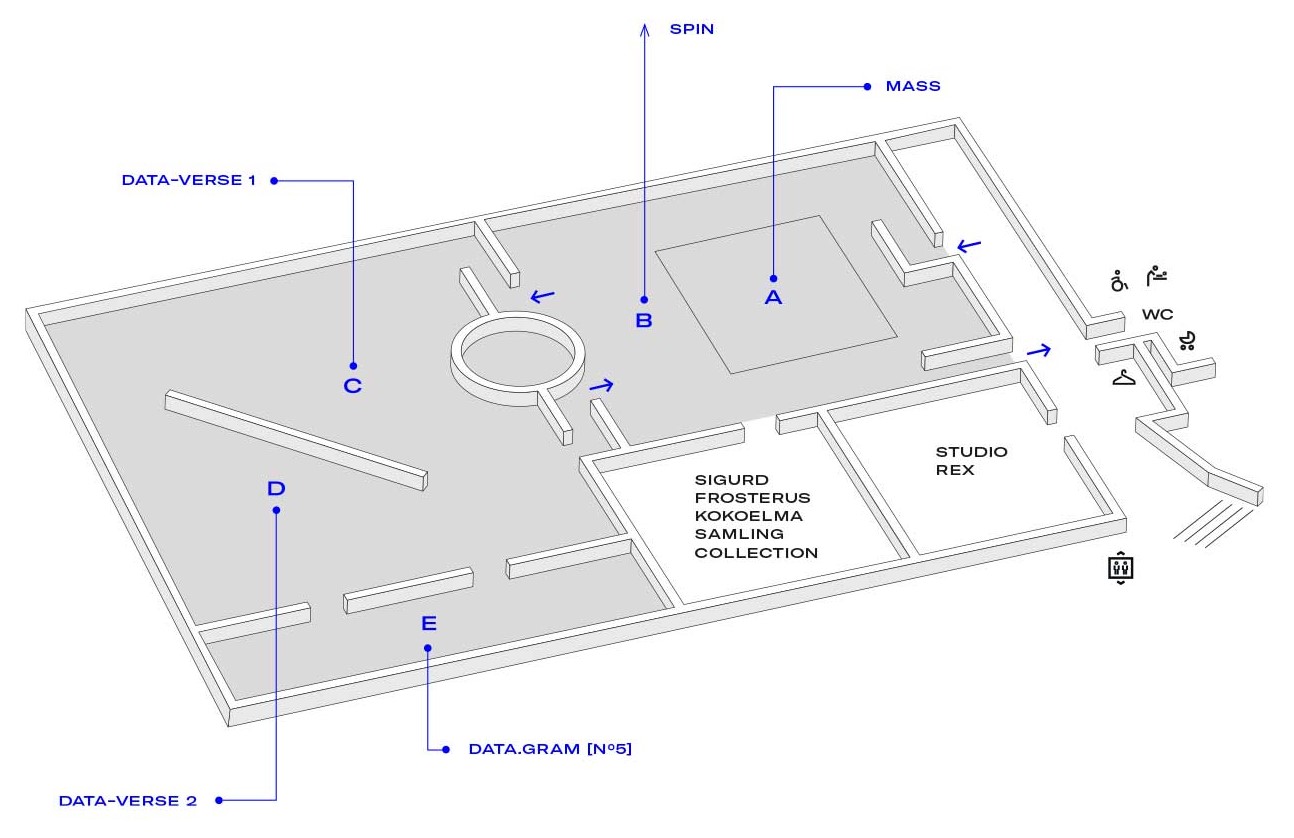 Check out the ex­hi­bi­tion guide
Ryoji Ikeda's artworks need darkness in order to function properly. Therefore, there is no texts in the exhibition halls. If you want to know more about the artist and the artworks, you can check out the exhibition guide, where you will also find Ou's greetings! It's a good idea to read the exhibition guide together with an adult. They are available in the museum's lower lobby, in the Studio Rex art workshop space and online: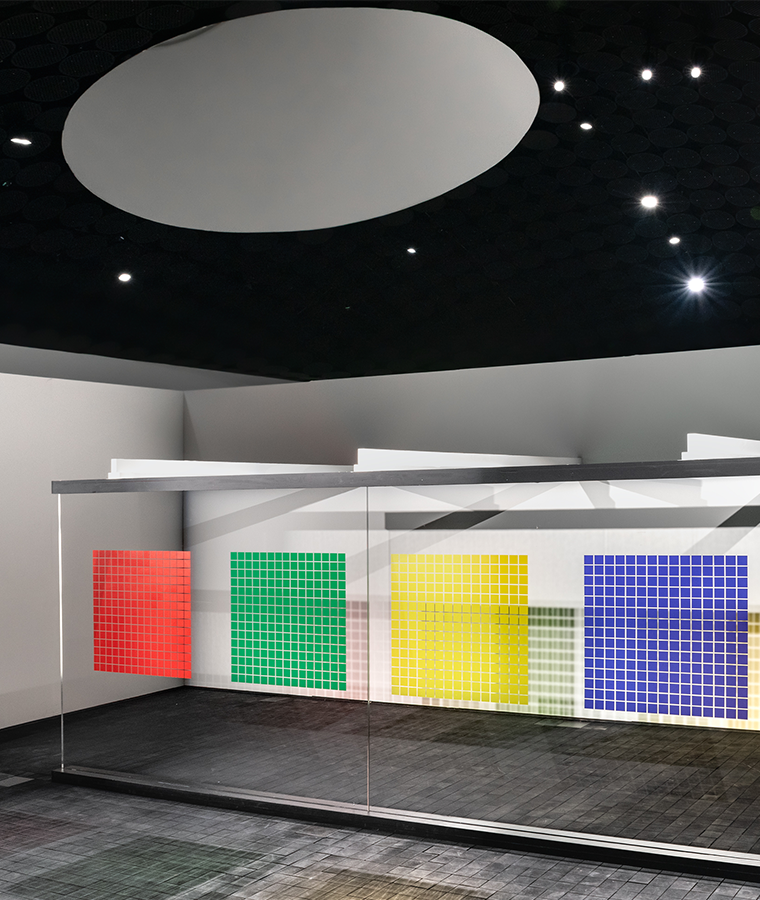 Studio Rex
An art exhibition can evoke big ideas and emotions that require time to digest. What do you need right now?
Sometimes, all you have to do is just take it easy. What traces has the exhibition left in your body? What happens when you close your eyes? Perhaps something is tingling, or is everything completely calm? Maybe all you want to do it to sit in silence.
It's also quite possible that a bunch of questions have popped up in your mind. Feel free to share any thoughts with the museum staff in Studio Rex, dressed in purple jackets. However, finding words to express your thoughts is not always possible – for instance, Ou doesn't use words to communicate. Sometimes digestion happens best when we are free to tinker and play without any specific plan in mind. Studio Rex is the perfect place to do exactly that.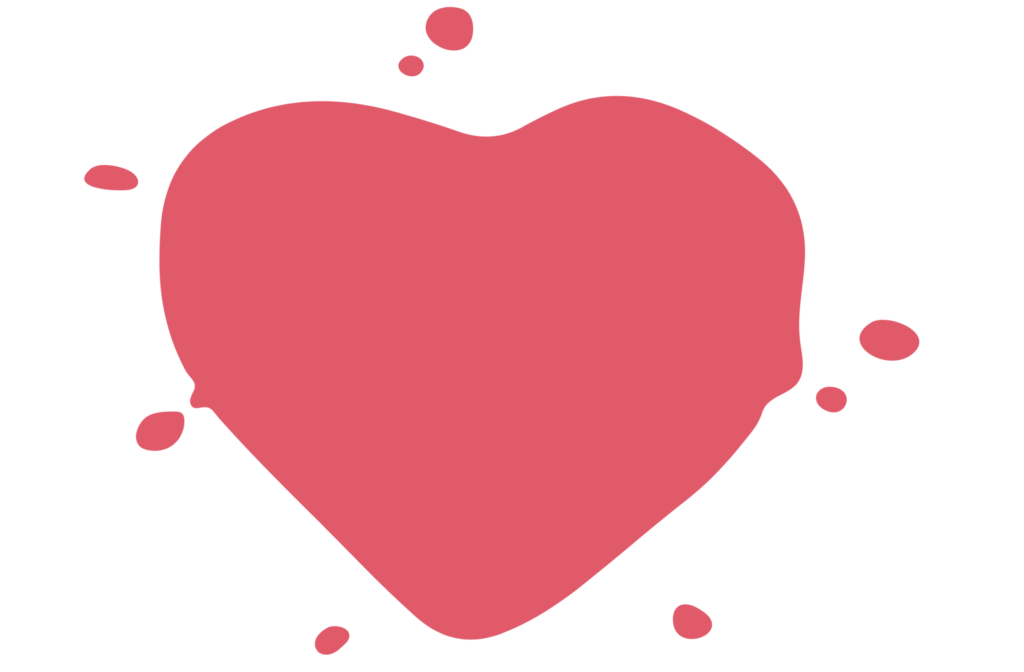 Follow Ou on kids' own guided art tours.