2 April – 21 August 2022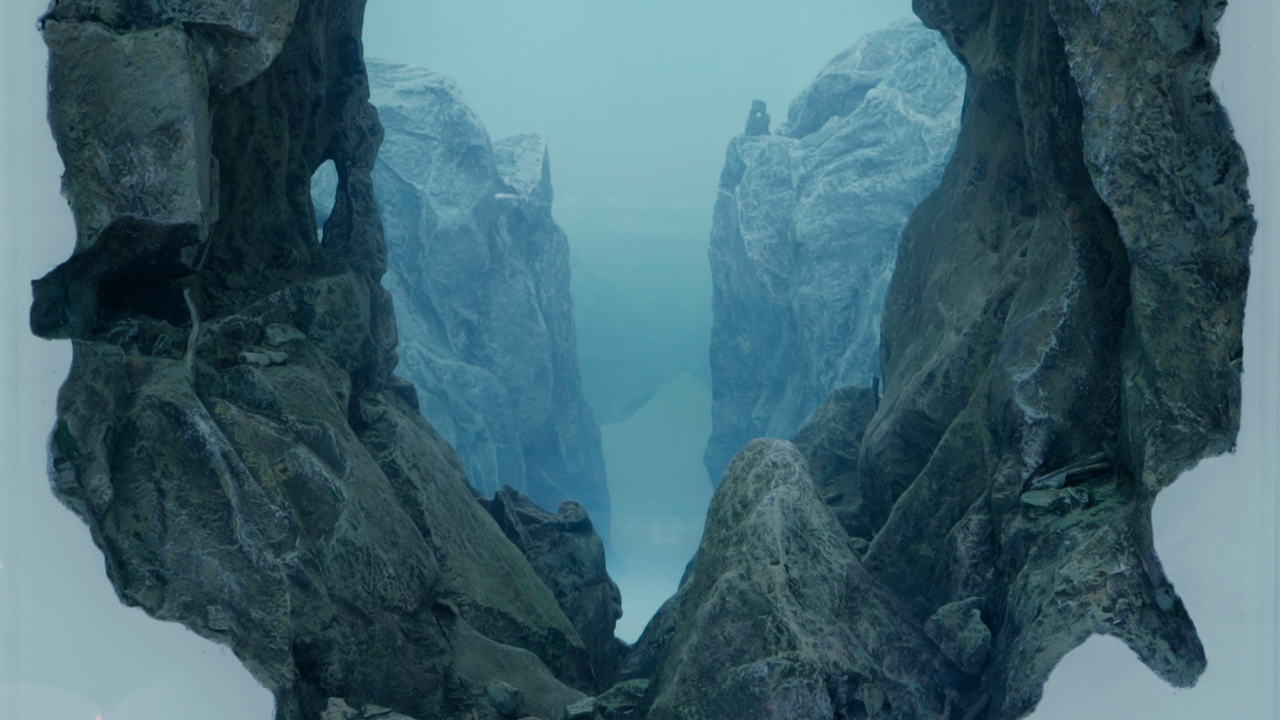 The underground world is enigmatic, exciting, alluring, dangerous and mysterious. There is much more beneath the earth's surface besides earth, minerals and roots. There is also the glowing magma of volcanoes, underground aquifers, unexplored caves, rabbit holes, catacombs, and metro tunnels.
The Subterranean group exhibition uses four themes to explore how artists through the centuries have depicted the worlds beneath our feet. This extensive exhibition features 101 works by 62 artists. The works take us into the caves and cavities of the earth's crust, the mythological realms of death, the rabbit holes of literature and traces of the exploitation of the earth beneath our feet.
The historical and contemporary works in the exhibition form a multi-faceted image of underground realities. Subterranean includes paintings, sculptures, photography, installations and video art. The oldest work in the show is from 17th century, while the newest ones were completed just for this exhibition.
Artists in Subterranean are:
Roma Auskalnyte, Felipe de Ávila Franco, Per Barclay, Antoine-Louis Barye, Ursula Biemann, Louise Bourgeois, Tom Claassen, J. F. Clemens / Nicolai Abildgaard, Johan Christian Dahl, Tacita Dean, A K Dolven, Gustave Doré, Cho Duck-Hyun, Cecilia Edefalk, Magnus Enckell, Anna Estarriola, Akseli Gallen-Kallela, Helene Garberg, Ane Graff, Håkon Gullvåg, Inma Herrera, Nicola Hicks, Leif Holmstrand, Peter Johansson, Per Kirkeby, Jussi Kivi, John Augustus Knapp, Britta Marakatt-Labba, Lucila Mayol, Elina Merenmies, Gustav Metzger, Félix Nadar, Joar Nango & Ken Are Bongo, Ernesto Neto, Mariele Neudecker, Tuula Närhinen, João Penalva, Giovanni Battista Piranesi, Tal R, Eduard Riou, Pipilotti Rist, Auguste Rodin, Nina Roos, Hans Rosenström, Martinus Rørbye, Geir Harald Samuelsen, Sten Are Sandbeck, Nedko Solakov, Axel Straschnoy, Pascale Marthine Tayou, John Tenniel, Katja Tukiainen, Marianna Uutinen, Marko Vuokola, Jens Ferdinand Willumsen, Per Wizén, Joseph Wright of Derby, YOUNG-HAE CHANG HEAVY INDUSTRIES
Check out the opening ceremony of the Subterranean group exhibition and take a sneak peek to the construction phase of the exhibition on museum's YouTube-channel.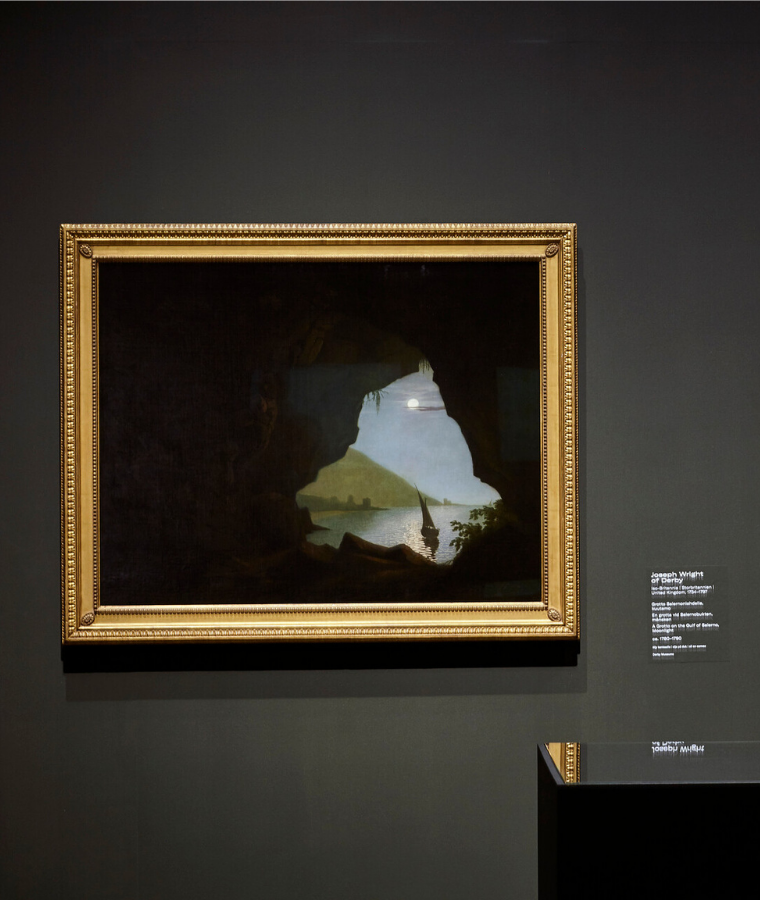 Geology: Caves and cavities
For early humans, caves were not only homes but also places of worship. Cave paintings by people who lived tens of thousands of years ago are among the world's oldest works of art. Interest in caves and volcanoes particularly bloomed during the Romantic era. Joseph Wright of Derby (1734–1797) is best known for his landscape paintings and portraits. In 1774, he did four paintings of a cave in Italy's Gulf of Salerno in various lighting conditions. The subject is typical of Romantic art, which centres on impressive natural experiences.
Contemporary artists indeed have a long, ancient tradition to build on as they explore the underground in their art. The underground world is a timeless theme in art.
Mytholo­gies – De­scend­ing into the un­der­world 
The underground world offers a place for myths and legends of the gods. It is home to creatures that are often frightening and threatening. In Christianity, hell is most often seen as being underground. It is presented as a horrifying place where those convicted sinners who are denied a place in heaven find themselves.
Katja Tukiainen's painting is based on the Inferno section of The Divine Comedy. In the narrative, Dante and his guide, the Roman poet Virgil, travel in Charon's boat across the River Acheron to hell. The work alludes to a famous painting from 1822 by Eugène Delacroix that depicts this boat journey.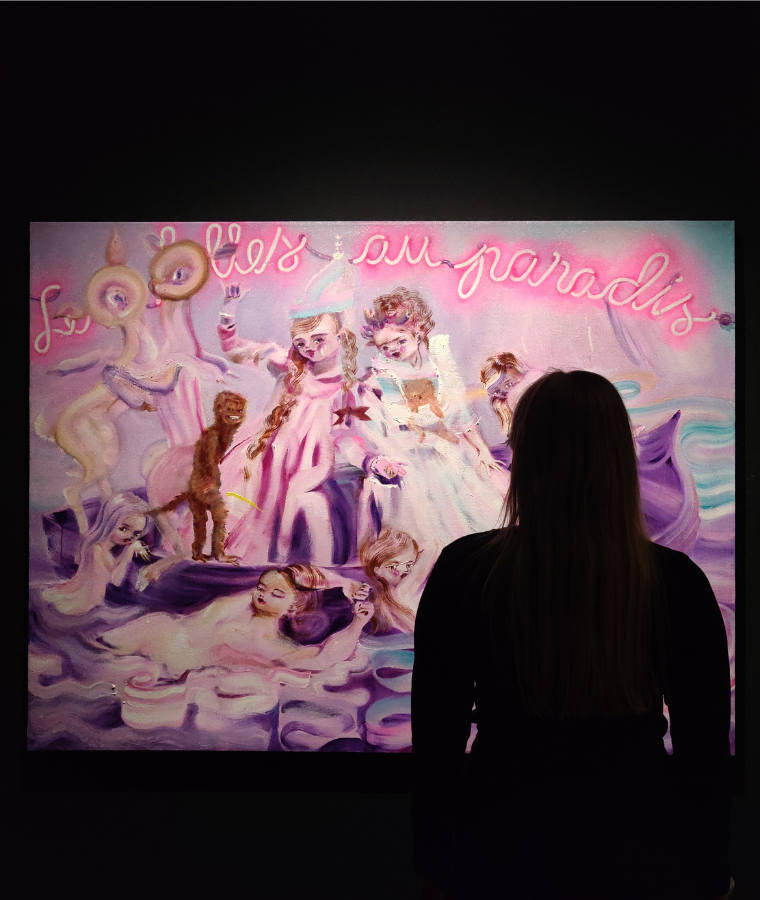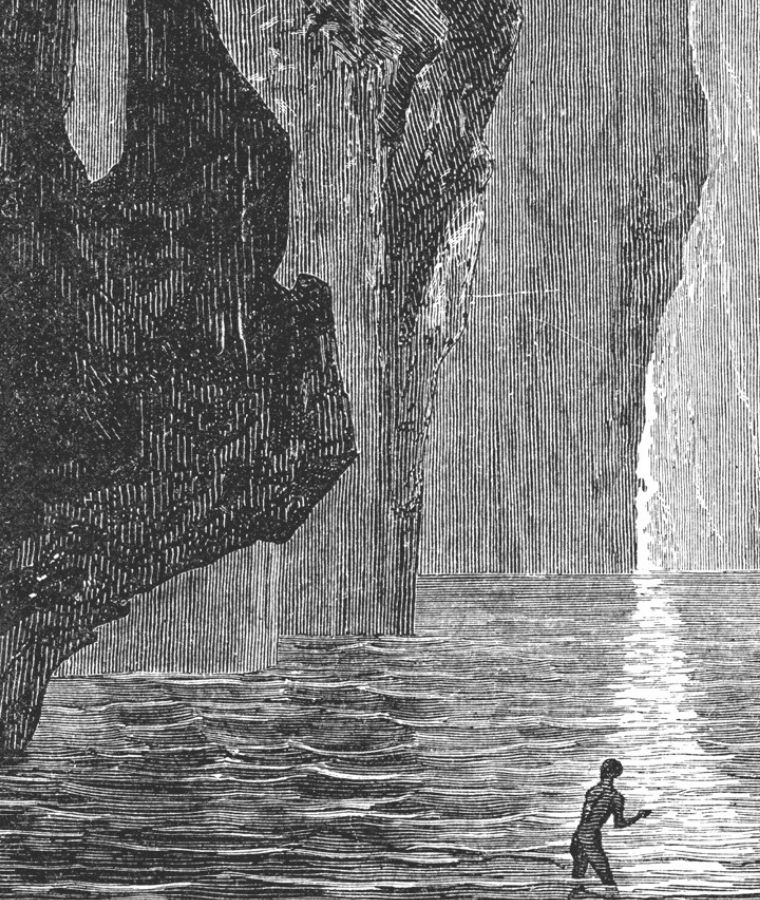 Down the Rabbit Hole – The Fictional Depth
In Lewis Carroll's book Alice's Adventures in Wonderland (1865), a rabbit pulls a clock out of his vest pocket, mutters something, and dives down his hole. Alice follows him and plunges down into the underground world, where nothing is as it seems. Similar stories of the underground and the creatures living there can be found all over the world, from folk tales to contemporary children's books.
The premise of Jules Verne's classic A Journey to the Centre of the Earth (1864) is the old theory that the Earth is hollow. This theory has been more prominent in literature than in science. In the novel, a group of researchers enter the Earth through a volcano crater in Iceland. Under the surface of the Earth, they encounter strange plants, animals and natural phenomena. Edouard Riou illustrated several of Verne's books. His images had a major influence on the books' popularity and are still used in new editions.
Man Made – Ex­plo­ration and Ex­ploita­tion
Humans are their own worst enemy when it comes to exploiting the underground world. Humanity has carved its own footprint beneath the surface of the earth: underground lie treasures such as gold, diamonds and oil, but also man-made sewers, catacombs and Metro tunnels. These themes are central to the works of many contemporary artists who comment on political conflicts and globally unsustainable development.
Pascale Marthine Tayou's installation is based on the production of diamonds in Africa. The diamond industry and other exploitations of subterranean resources have spurred violent conflicts that have led to countless fatalities and hundreds of thousands of people becoming refugees. The precious stones are referred to as "blood diamonds" when they have been mined in conflict areas. Wars are often financed through the gems, helping individual warlords to maintain small armies, while people are ruthlessly exploited in the process.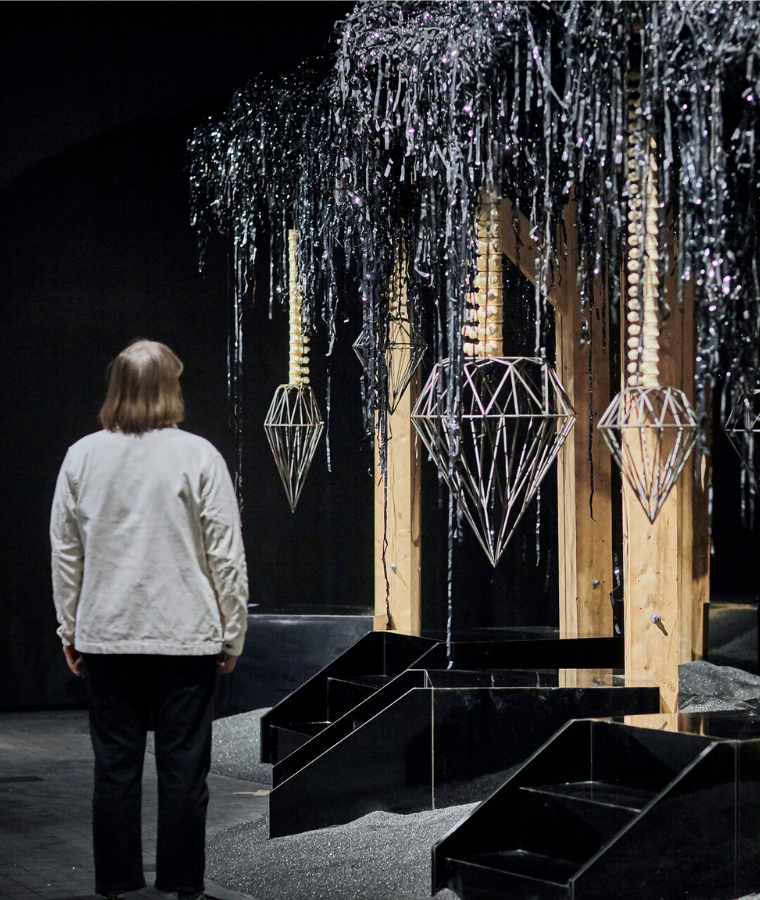 Gallery Guide
This is a guidebook for your journey through the Subterranean group exhibition. It contains an introduction to the exhibition, in-depth descriptions of its themes, a list of artists as well as a floor plan to help you navigate the space. The brochure has been illustrated by Ulla Donner.
There are brochures in Finnish, Swedish and English. You'll find it also at the museum for free.
Studio Rex
The underground Amos Rex museum is also like a cave of sorts. During the Subterranean exhibition, this is highlighted in the museum's art workshop space, Studio Rex.
At Studio Rex, you can find a comfortable place to stop to reflect on your visit to the Subterranean exhibition. How does the story of the exhibition begin, continue or end? It's completely up to you. At the art workshop, you can write or draw with other guests. Perhaps you'd like to continue someone else's idea, or leave an incomplete sentence for the next visitor.